PRC Offices Now Open: Steps on How To Renew Your Nurse License Online
Most areas of the Philippines are still under general community quarantine thus, not all PRC offices are officially open. Thankfully, the PRC office in our city is one of them so I could not contain myself from being overjoyed knowing that I can finally have an original copy of my license (click here for the backstory). Below are following Professional Regulation Commission (PRC) that have opened and reusmed frontline services last May 4, 2020:
Professional Regulation Commission Offices that are now officially OPEN
Region II (PRC Tuguegarao& Robinsons Place Santiago)
Region IV-B (Robinsons Place Palawan)
Region V (Robinsons Place Naga)
Region VII (Robinsons Place Dumaguete)
Region VIII (PRC Tacloban& Robinsons Place Ormoc)
Region IX (PRC Pagadian)
Region X (PRC Cagayan De Oro)
Region XII (PRC General Santos, PRC Robinsons Place Gensan, Kidapawan and Koronadal Service Centers)
On the other hand, new appointment schedules have been released for those scheduled appointments that were affected with the imposed strict quarantine measures: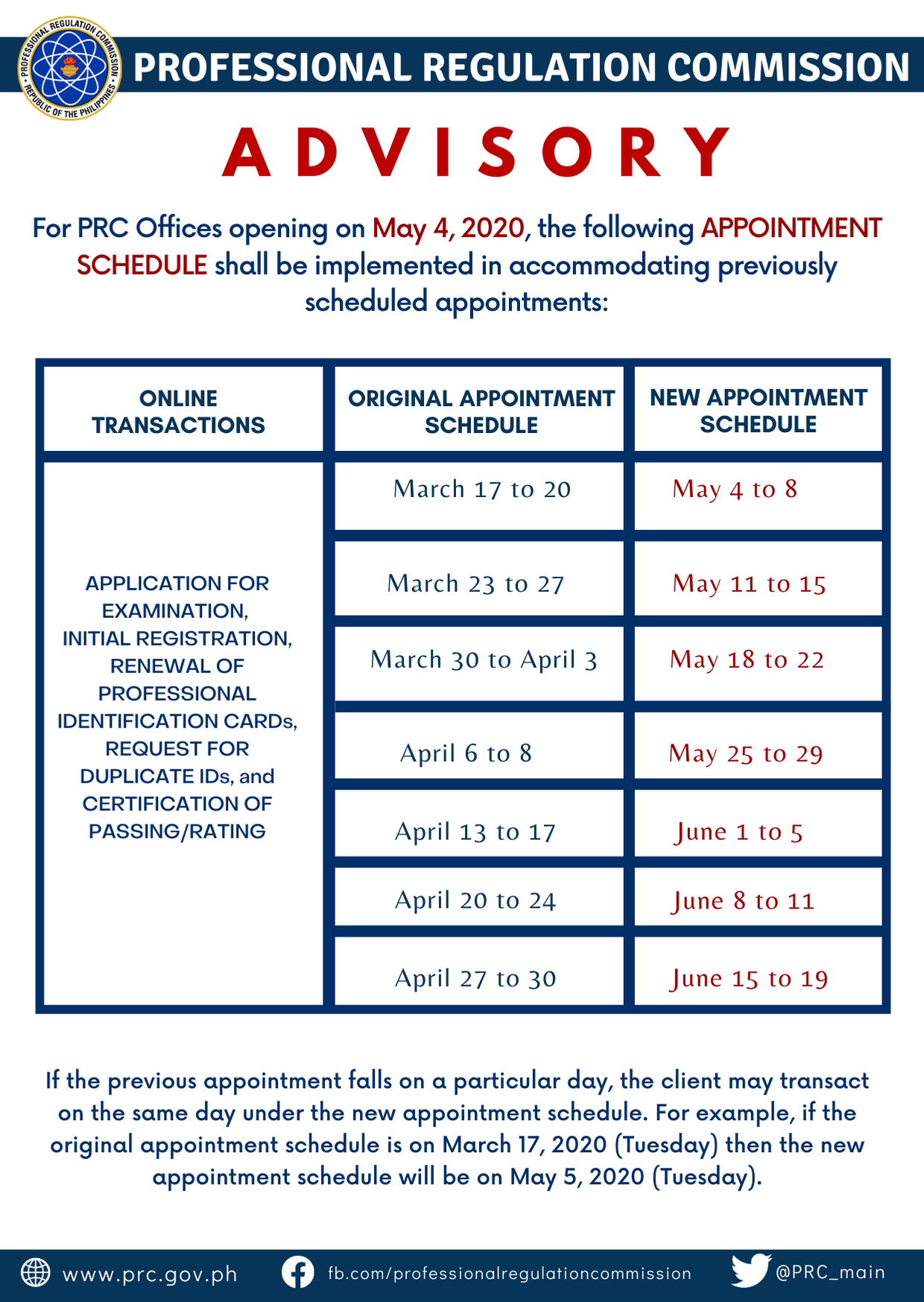 Steps on How to Renew your Nurse License Online
The last time I had my license renewed was still 2016 and online transactions were not yet a thing back then so here are the steps that I took on how to renew your nurse license online to help nurses like me who are struggling in figuring out the online world.
1. Register an account and fill in personal information or sign in your existing account
You can start renewing your license within the year of the expiration date. So if the expiration date will be March 2021 (next year), you can already renew it this month since it falls within the year (March 2020 to March 2021).
2. Upload a Photo
When uploading your photo, make sure it's the latest since this will be the official photo that will be placed on your license and that will be good for 3 years. In my case, I once again used my old photo since I don't have other latest pictures. Too bad.
3. Select Transaction for Renewal Request
Click the select transaction and choose the Renewal Tab. Fill up the following: choose Nurse for profession, input your license number then confirm selection.
4. Set an appointment
Type in the your preferred PRC Regional Office or Service Center. You can simply do this by typing your city and the following PRC offices within your place will appear. Once you click proceed, your appointment will be automatically set. In case the appointment schedule may not apply to your availability, you can simply reschedule it by clicking reschedule and choose among the available scheduled date and time. Then, fill in your reason and click confirm.
5. Select payment option
Payment of fee for the abovementioned transactions shall be accommodated only through the PRC payment channels: PayMaya, Landbank (Linkbiz), UCPB (Over the Counter) as precautionary health measures in line with the enforced and minimum health standards as prescribed by the Department of Health (DOH).
In my case, since I don't have the other options such as UCPB, paymaya or landbank, I just borrowed a friend's Landbank card and just paid in cash.
The JAI account is always "0" for single accounts.
6. Process Transaction
Once you are done with your transaction, you will be redirected to the following pages.
7. Print document
After the successful payment, you will not be automatically redirected to a page that tells you to print a particular document needed to pass on the day of your appointment. Although, there is a sign that says "Print document", I didn't really mind it since I thought it was to print the receipt.
So yeah, I have not reached up to this step thinking that the reference number was all I needed. I went to the PRC office without any document but just the screenshot of my reference number. Thankfully the guard was helpful enough to escort me to where I can ask for assistance.haha At least the staff who handled me were understanding enough so I was given a blank application form and manually filled up the needed details.
8. Arrive early or on time on your scheduled appointment date
What you need to bring on your scheduled appointment date is just the printed document. For the CPD compliance, you can waive it since renewal of Professional Identification Cards (PIC) without full CPD Compliance are accepted until December 2020.